Houzz Contributor, Becky Harris
Recently I spoke with interior designers two days in a row who told me that they had been looking to Parisian apartments for inspiration. First, Nikki Dalrymple said the 19th-century panel moldings typically seen in Parisian apartments had inspired her while she was designing this library. The next day, Elana Rudiger said she and her clients had looked at Parisian apartments for inspiration during the design process for this condominium. The white walls, beautifully detailed millwork, vintage mercury glass and marble mantel were elements she borrowed from her favorite Parisian apartments.
These designers were onto something that many of us wish to capture in our homes — the (seemingly) effortless chic style that we often see in Parisian apartments. Because much of Paris was rebuilt between 1853 and 1870, during the reign of Napoleon III, many are marked by Second Empire architectural elements like ornate moldings and fireplace mantels, parquet floors, and French doors. Today these traditional elements mingle with clean-lined furniture and modern artwork in stylish Parisian homes. If you dream of a fantastic French feeling at home, these 10 steps can help you get the look.
1. Carefully balance old and new. This living room is a mix of traditional and modern. The architecture and millwork typically bring in the traditional style, while the furniture has sleek lines. Here we see shades of the ornate Baroque style that experienced a revival under Napoleon III during the Second French Empire.
Try this at home: Using light colors like white, cream and barely gray on the walls and ceiling, and keeping other finishes and colors to a limited palette, will help you marry the styles cohesively.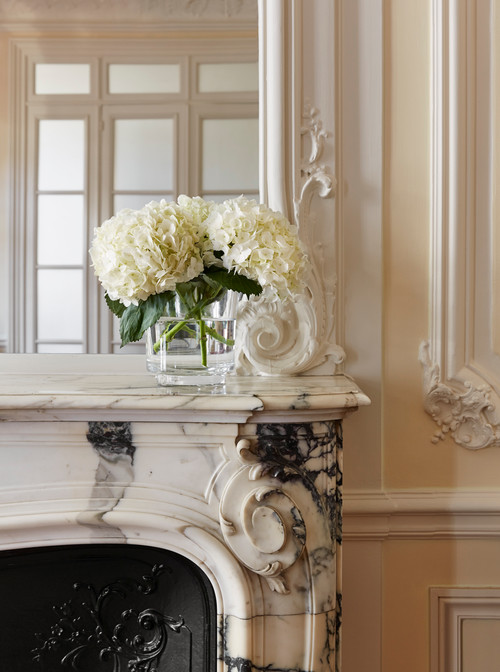 2. Splurge on a marble fireplace surround. In a beautiful Paris apartment, the fireplace surround is often the most ornate element in the room. Many of these appeared in Paris during the mid-1800s, and often there is a large mirror overhead framed in molding. This draws the eye up and reinforces the fireplace as the room's focal point.
Try this at home: You can find wonderful surrounds from architectural salvage sources or have a new one made. Another option for adapting this feature is to create a more clean-lined fireplace but with a gorgeous piece of marble that has prominent veining. If a new surround isn't in your budget, hang a large mirror over your mantel.
3. Consider chevron flooring. This hardwood floor parquet pattern is often seen in tony Parisian apartments. Parquet flooring was frequently composed of small-scale pieces and could contain fanciful inlays during the Second French Empire. But the chevron pattern was a more modern take at that time, and it works well today, particularly when you want to layer in contemporary style.
Try this at home: With advances in digital printing, there are many porcelain plank tiles that look like wood on the market today. If you need a more durable finish or desire a more contemporary look, consider plank tiles laid in a chevron or herringbone pattern.
4. Install ornate moldings. Fanciful curves, rectangular panel moldings, ceiling rosettes and dentil molding are commonly seen in classic Paris apartments. They bring in the traditional part of the style equation.
Try this at home: The carpentry bill on ornate moldings can run high, but there are inexpensive shortcuts. For example, you can get the look by using a plastic foam ceiling medallion, as interior designer Bachman Brown Clem did in his dining room. There are also peel-and-stick molding options.
5. Place artwork prominently. Paris has such a great tradition of inspiring artists from all around the world, and the appreciation of artwork is a long-standing part of the culture.
Try this at home: Feel free to experiment with different types of art. Traditional portraits and busts commonly mix with modern sculptures and paintings in Parisian apartments. A gallery wall is a good place to experiment with quirky combinations.
An Insider's Guide to Creating the Perfect Gallery Wall
6. Hang a chandelier. This is a flexible piece that can help your room swing more traditional or more modern.
Try this at home: If you're trying to balance old and new but feel that your room is skewing too modern or contemporary, hang a gold or antique brass and crystal chandelier. If the room feels too traditional, consider one in a swing-arm or Sputnik style.
7. Work in a daybed. Parisian apartments mix up seating beyond the usual layout of two sofas or a sofa and two armchairs. A daybed offers something different and can seat three or four people when you're entertaining.
Try this at home: A daybed looks terrific with an unexpected covering — perhaps a fuchsia or cobalt textile in an otherwise neutral palette, or a well-worn leather or natty tartan in a room full of crisp canvas and linen.
8. Whitewashed or cerused oak. These finishes are quintessentially French, often seen on floors, woodwork and, as shown here, doors.
Try this at home: Pick up a piece of furniture like a table or armoire in this finish. It will bring in the look without requiring any major construction.
Renovation Material: Cerused Oak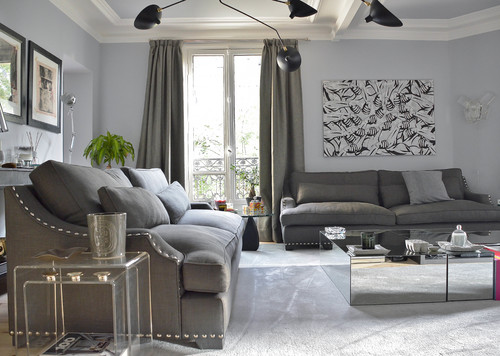 9. Mirrored, glass or Lucite tables. Side, cocktail and console tables are prime places to play with clear or reflective surfaces. Besides adding texture and reflecting the light, they also make a room appear larger.
Try this at home: If you want to switch up a look without breaking the bank, swap out an existing clear glass tabletop for a mirrored one — a local glass shop can do this for you. Interior French doors are another potential spot for bringing in a mirror. If you're looking to add some patina and age to your home, opt for a smoked or antiqued mirror.
10. Potted plants on the balcony. I always remember the beauty of three pots of lavender on each wrought iron window box outside the first Parisian apartment I ever visited. Red geraniums, rosemary, lavender and boxwood that's clipped into globes deliver Parisian style to the balcony.
Try this at home: If you don't have a balcony, window boxes will do. And if window boxes aren't feasible, find a sunny spot on a kitchen counter for a small lavender plant or rosemary topiary.
See more homes around the world
Related Reads
Discuss Parisian Style With a Local Professional
Crown Molding: Is It Right for Your Home?
Find a Bright Balance Between Traditional and Modern